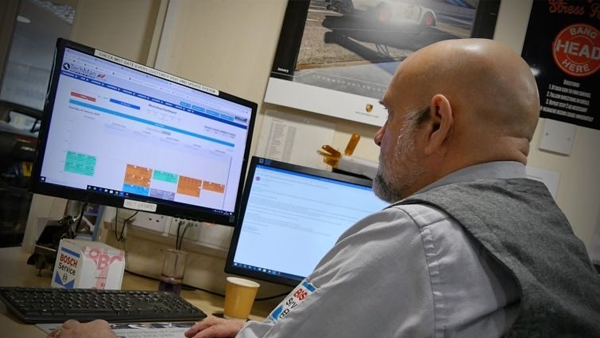 The booking-in process, which would traditionally require a conversation with a technician to determine the amount of time required and a motor factor phone call to order the parts, can now be completed in less than a minute thanks to the TechMan Garage Management System.
TechMan's refreshing alternative, developed specifically to improve garage business efficiencies, starts with a simple vehicle registration lookup. From here service desk staff can search and add repair times using integrated HaynesPro data and order the correct parts thanks to the built-in Euro Car Parts catalogue before allocating the job a slot in the workshop calendar.
Leo Freebairn of TechMan said: "It's often said that small gains bring the biggest results and that couldn't be truer for TechMan's streamlined booking-in process.
"We've spent many months developing a solution to claw back some of the time spent on admin-heavy work so that it can be better spent on more lucrative tasks.
"Reception staff no longer have to chase technicians for repair times and suppliers for parts, that's a job that can now be completed directly within the TechMan Garage Management System. It gives service advisors more time to contact customers about advisory work and perhaps even help manage the garage's online presence to attract new custom and reviews."
The integrated LKQ Euro Car Parts catalogue allows users to look up parts direct from within a job and view costs, RRP and stock availability at their local branch. Once added to a job card an electronic order is sent to their local branch, removing the need order parts over the phone.
Haynes Pro vehicle data integration additionally gives all TechMan users access to repair and maintenance information without the need to purchase multiple licenses. The data is linked directly to each job, so anyone inputting, amending or completing a job has access to everything they may need.
TechMan has released a short video demonstrating the job creation process, highlighting its ease-of-use and time-saving capabilities.
For more information about the TechMan Garage Management System or to arrange a demonstration, call 01604 666 720.