The two recently announced winners of prestigious industry awards have given credit to TechMan, the fast-growing TechMan has collaborated with award-winning independent Audi and VW specialist ADS Limited, to deliver an honest appraisal of their experiences to date since implementing the TechMan garage management system less than four months ago.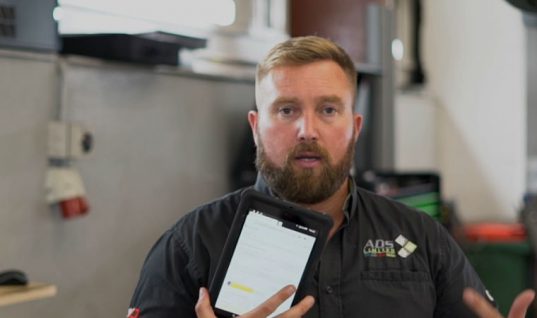 ADS was founded by diagnostic specialist and industry expert Frank Massey over 30 years ago and has been run by son David since 2012.
David's set out to offer a 'genuine alternative to main dealer' for VAG vehicles.
The formula has transformed the business from a niche specialist with a 1,200 sq foot single ramp workshop into 4,000 square foot four ramp workshop and it's precisely this growth that's created the challenges David sought to address with TechMan.
In the video, which aims to help show other garages the potential benefits, David explains the huge changes already seen with TechMan.
The business has gone 'paperless' as TechMan is used not only to book jobs in at the front desk but also on TechView tablets by all technicians.
Avoid excessive admin
The link between technicians and front of house is shown to be almost seamless for ADS, preventing delays and avoiding excessive administrative work.
Jobs are immediately allocated to technicians on arrival.
TechView tablets are then used by all technicians to provide condition reports back to front of house where customer authorisation is needed.
Video capabilities
David highlights key capabilities within TechView, reserving particular praise for the video system, which he says is used to quickly walk-round and record real-time information like tyre tread depths, so work that's needed can get priced and agreed almost as soon as the car is on the ramp.
David identifies the capability to upload service sheets as a big benefit too.
These are worked through systematically every time using a simple traffic light system.
Financial gains
David describes the support received from the Northampton-based business as 'second to none' whilst openly describing the challenges moving to TechMan 'in real time during one of our busiest periods'.
TechMan has started delivering financial gains for ADS already.
Data on technician utilisation informed tweaks in processes and roles that raised efficiency, whilst delving into 'jobs that have gone wrong' has helped David identify solutions – including investing in the right areas with a new upgraded induction heater, thermal imaging camera and increased staff training.
First published on GarageWire – 11 September 2018: https://garagewire.co.uk/news/company/techman/watch-ads-limited-explains-benefits-of-techman-switch-in-new-video/
Published: September 11, 2018