As one of the world's leading trade fairs for the automotive services industry, the Automechanika Frankfurt is an exciting opportunity for all automotive businesses.
Given the incredible platform to meet with fellow industry professionals, TechMan are incredibly excited to be visiting Automechanika Frankfurt in the heart of Europe's automotive industry.
After a long break, the event is finally back in its familiar format, bringing together exceptional innovations from all over the world.
As one of the largest international events for key players from the manufacturing industry, repair shops and automotive trade, the Automechanika Frankfurt brings a number of opportunities for businesses to come together.
Here at Techman, we're excited to unveil what new plans and exciting features we've been working on to improve the efficiency of fellow garage businesses.
Introducing our best in class Garage Management System, TechMan brings you excellence, efficiency and automation.
With a wide range of services, features and integrations, the TechMan GMS helps to fully automate your garage to enhance productivity and increase sales.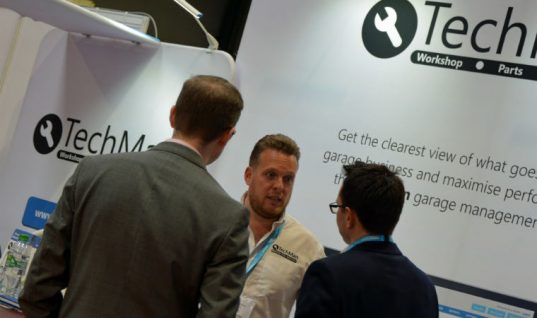 Benefits of TechMan Garage Management Software
Some of the top benefits of introducing our GMS into your garage business are are follows:
1. Workshop Performance Tracking
Track the profitability and productivity of your workshop in real time. Every tool you need to run your garage with maximum automation and efficiency. 
2. End-to-End Customer Management
Perfect customer management with accurate job allocation, timely booking reminders, an easy-to-use customer portal, fast feedback and greater transparency.
3. Perfect Personnel Management
Bringing you the perfect way to manage all of your staff with one simple digital feature, the TechMan GMS makes it incredibly easy to manage your personnel and their efficiency.
4. Clockwork-like Inventory Control
A perfect stock control and management system that can give you regular reminders, create purchase orders and help manage stock better.
5. Increased Online Presence
With better access to your customers, the system can take website bookings, send reminders to customers about their bookings, and make your website more user-friendly.
6. Accurate Accounting and Reporting Process
With a fully automated system to record all your supplies, purchases, incomes and expenses, you can rest assured that your business is in good hands.
7. Better Performance
Improve the performance and efficiency within your workshop and enhance productivity in every area of your business with TechMan's Garage Management System.
8. More Bookings
Enhanced performance and improved customer experience through web booking integration can lead to more new customers and greater customer retention.
Request a Demo of TechMan's Garage Management System Now!
With years of experience providing our clients with exceptional customer service, we promise you nothing but the best.
Offering you a wide variety of features, TechMan is truly one of the most efficient Garage Management Systems available on the market.
To learn more about our services, visit our homepage or contact us now!
Published: September 14, 2022