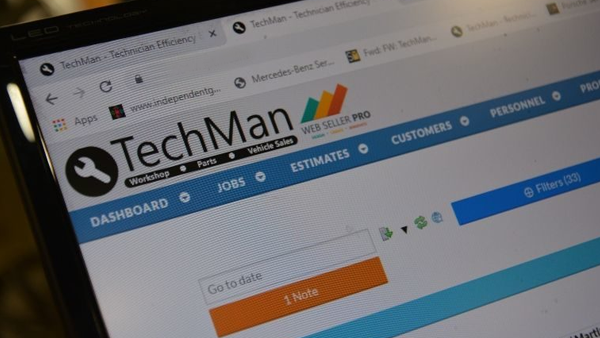 In the spirit of continual professional development, a team of Success Managers ensure all TechMan users – new and old – understand how to fully exploit the long list of powerful and intuitive tools within the application, each developed to significantly streamline garage operations.
Customer Liaison Director at TechMan, Pete Mcilhiney said: "Garages that use TechMan do so because they strive to be the best they can be. With our on-going management training and support, they're able to make use of all of the various elements within TechMan and, crucially, optimise them for their own workshop."
Following registration, TechMan handles the implementation of the Garage Management System with the ability to export data from more than 25 other systems and explains the fundamentals to all users with introductory training.
TechMan's unique support programme goes well beyond an initial on-boarding process though. GOES GSE Ltd, Angus MacKinnon and Londesborough Motor Services are among the many independent garages benefiting from TechMan's free on-going support channels.
"Training and support go hand-in-hand with the TechMan ethos, it's a continuous loop," Pete explained. "We provide garages with expert guidance from the moment they choose TechMan and maintain contact for the duration to ensure they continue to achieve their goals.
"It's important for us to proactively reach out to check everything is running smoothly and ensure goals are being accomplished. We seek to find potential areas for improvement and then educate users with bespoke additional training where needed. By providing the right tools and guidance, we're seeing more and more garage businesses achieve great things and that's really rewarding for us."
A telephone support line ensures TechMan users have direct access to a Support Manager, experienced in the daily pressures of workshop life and available to offer on-demand support during the working day. Other forms of direct communications include emails, a ticketing system and a Facebook community support group.
Free weekly online training webinars hosted within the Garage Management System are also extremely popular with users keen to benefit from the many innovative new features that get added and also for refresher training on the basics, ensuring all staff are fully aware of how to best adopt the various aspects associated with TechMan.
The latest webinar topic covered TechMan's recent integration of Haynes Pro which gives all user logins instant access to service schedules, repair times, drawings, procedures, capacities, wiring diagrams and fault code diagnosis, to name just few of the available points of data now available.
For more information about the TechMan Garage Management System or to arrange a demonstration, call 01604 666 720.