In Town Automotive, one of the largest independently owned vehicle servicing and repairs garage in Northampton, has rounded off 2018 in style, after taking home its second prestigious technology award of the year.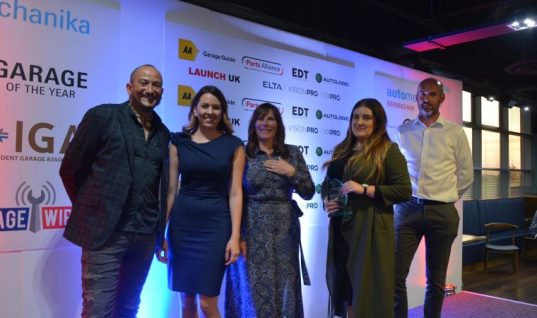 November's Northamptonshire Business Awards, compered by comedian Jimmy Carr, awarded the garage with the much sought after 'Innovation Award', beating off some tough local competition from a variety of industries.
This award follows Automechanika Birmingham's decision to name In Town Automotive as recipient of the 'Business Innovation' award back in June.
Judged by a panel consisting of James Onions from Garage Wire, Andy Savva from The Garage Inspector, Stuart James of the Independent Garage Association and Simon Albert from Automechanika Birmingham, In Town Automotive received the accolade at a special evening dinner for 140 garages and suppliers held in the Director's Lounge, Aston Villa Football Club on 5 June, with guest speaker, Fuzz Townshend.
Garage management system
The businesses entry highlighted the importance of the TechMan garage management system throughout the business, which was developed initially by In Town Automotive's Terry Dorney to help streamline and improve their customer service practices.
In Town utilises 24-hour online bookings, which then drive automated text and email reminders.
Customers can also access their vehicle's history with the garage, see video health checks and authorise additional work remotely.
As a matter of course, customers are called afterwards to check satisfaction, and there's an automated reminder system thereafter to pick up on any future requirements such as brake checks or MOT due dates.
The use of technology is deeply embedded in day-to-day activities at the garage, creating a win-win whereby the business is able to automate and improve its processes whilst customers gain a slick and attentive service.
Forward-thinking garage
Terry Dorney, Director at In Town Automotive commented: "The industry recognition that we've received this year really has been incredible.
"Winning two awards for innovation is particularly rewarding, as it shines a light on the ways in which we've worked so hard to refine our customer service practices.
"I'd like to thank all of our customers and team for their continued support."
Leo Freebairn, national sales manager at TechMan, said: "Many congratulations to everyone at In Town Automotive, such a forward-thinking business deserves recognition for its achievements.
"The TechMan team is constantly striving to ensure that the TechMan offering continues to lead the way by providing our customers with an indispensable service."
For more information on TechMan or to arrange a demonstration, call 01604 666 720.
First published on GarageWire – 11 December 2018: https://garagewire.co.uk/garage-wire-views-issuu/how-techman-pdq-integration-can-save-your-garage-money/
Published: December 11, 2018