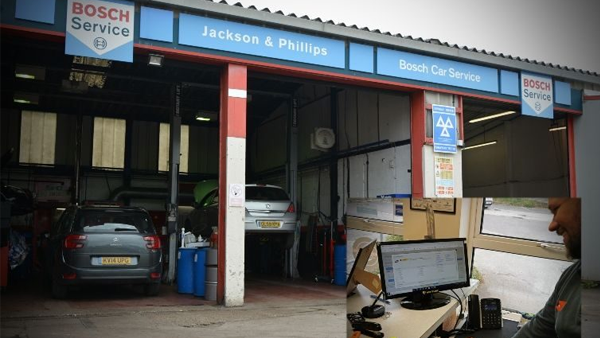 Every TechMan user login now has access to an all-encompassing database of service schedules, repair times, drawings, procedures, capacities, wiring diagrams and fault code diagnosis information.
Aaron Phillips of Jackson & Phillips Automotive Services in Leighton Buzzard, where TechMan has been the garage management system of choice since 2016, says TechMan's intuitive features are continuing to snowball and suggests the recent HaynesPro development is a particularly significant one.
He said: "Everything we do in the workshop takes time, but the customer isn't paying us to walk over to a computer and spend it looking up vehicle data. They're paying us to be working on their vehicle.
"With TechMan's HaynesPro integration, I haven't got guys queuing in the workshop trying to lookup technical data. They've got it at their fingertips on their tablet, so we can get the job done quicker and get more work in."
Previously, with a limited number of Autodata licenced users, technicians at Jackson & Phillips Automotive Services had to walk away from a job to manually search for information.
Now technicians can access HaynesPro directly from TechMan's job records on a tablet, providing instant access to reliable vehicle manufacturer data. Service desk staff are also able to use it to advise customers on job times and provide accurate quotations.
Aaron added: "TechMan HaynesPro gives everybody access to the data, there's no limitations. We've got four in the office and all eight technicians using it.
"As a technician, once you open the job you've got the technical data without having to do another reg search. It works for the guys in reception too, they've also got the technical data to hand."
HaynesPro data is linked directly to each job, so anyone inputting, amending or completing a job has access to everything they may need without a subscription fee.
Leo Freebairn of TechMan said: "We've been really excited about this one, so it's extremely rewarding to see garage businesses like Aaron's benefiting from our partnership with HaynesPro.
"This development streamlines the process for everyone and cuts-out any need for expensive licences to access vehicle data."
For more information about the TechMan garage management system or to arrange a demonstration call 01604 666 720.