We have been very busy bringing all new features and releases designed to make your TechMan user experience truly one-of-a-kind!
All new Notification Centre!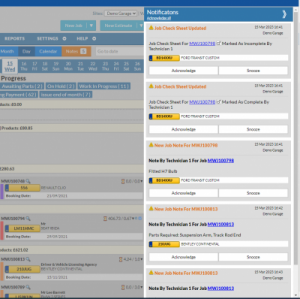 We have completely overhauled the way that users are presented with important alerts throughout the working day with a new Notification Centre accessible from everywhere within the platform.
Notifications will now drop into a hidden sidebar with a visible icon and count at the top of the page showing you the amount of notifications that require action; allowing you to continue with your work uninterrupted and acknowledge them in your own time.
Another feature requested by our users was the ability to acknowledge each notification individually. We're proud to say that this has also been introduced within this update so you can now leave notifications that might require your attention at a later time in the Notification Centre until you are ready to action them.
New "Peek View" functionality (and Service indicator!)

The popular "peek view" feature has had an update to now show further useful at-a-glance information to tell you if the Job includes a Service.
The Service indicator will show alongside the existing customer preference and MOT icons.
We've also added this Service indicator to the Digital Kanban Dashboard and Jobs search results across the platform so that you have the same consistent oversight no matter where you are.
Within the "peek view" you can now also directly change the customer's visit preferences without entering the Job.
For example, if the customer arrives and requests that you delivery their vehicle back to them when complete you can update the status of the Job to say the vehicle has arrived and mark it as requiring deliver all from the "peek view"!
Easier Vehicle History access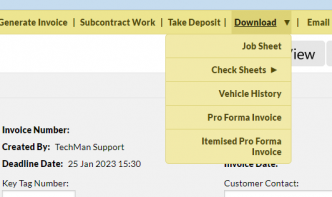 You have always been able to view and download any work history for a vehicle either directly with the vehicle details or even by your technicians when using TechView.
This release now makes that process easier by bringing this functionality directly into the Job in TechMan.
We've also included any public or internal notes that are attached to the historical Job to give you the full picture of work that was carried out.
Now when your front-of-house staff are booking in a customer all previous work history is just a click away!
Duplicate Estimate, Job or Parts Only Sale warnings
Have you ever started an Estimate for works to be carried out on a customer's vehicle when halfway through you get the feeling you've done it already?
Well with this update that feeling can be a thing of the past!
When you begin creating an Estimate, Job or Parts Only Sale for a vehicle TechMan will now warn you if it appears that the action has been done already.
You'll be presented with a list of open records for you to review, or you can choose to continue anyway and proceed as you were.
You might also be interested in…
"Registration", "Make" and "Model" fields have been added to the download of the Work In Progress Report
Additional vehicle details have been added to the Car Sales Report
We have added the ability to download search results from the Payment Search screen
Booking Date and Invoice Date have been added to the Day End Report when running for multiple days
A new section for "Invoice Date Amendments" has been added to the Day End Report
PDF download file names now include the details of the associated vehicle, if available
The colours you select in the Traffic Light warning system on Labour and Products now displays on printable documents
Customer records can now be configured to force a user to input a "Customer Reference" before invoicing Jobs or Parts Only Sales
Additional vehicle fuel types have been added for use on vehicle records
You can now de-authenticate a device directly from within the Terminal application
If you would like to arrange training on TechMan to walkthrough this update or any other feature of the platform then don't hesitate to reach out to our Support Team either via
telephone on +44 (0) 1604 666 720
or
email on support@websellerpro.com
The TechMan Team
Published: March 17, 2023