Garage management system, TechMan has added video capability to its TechView tablet platform after successfully piloting the concept with its growing independent garage customer base.
TechView is the mobile interface for the TechMan garage management system that enables 'paperless' working.
It's already been praised as a 'game changer' by garage owners and managers as it enables electronic job cards to be delivered straight to technician tablets.
They can then access everything needed to complete the job, including customer history, parts ordering status, electronic service sheets, previous advisories and more.
"Up until now, TechView has had capability to attach still images to send to customers," said Leo Freebairn, TechMan's national sales manager.
"Hugely popular enhancement"
"It's a much-used feature so we can see the new video capability is going to be a hugely popular enhancement."
Despite offering exceptional new functionality, video has been added without any increase to the subscription costs for TechMan customers.
"It's a valuable development," said Leo.
"Lots of video-only systems are around £50 per month with limitations on numbers of videos so building this in for free makes it a great piece of added value for our customers."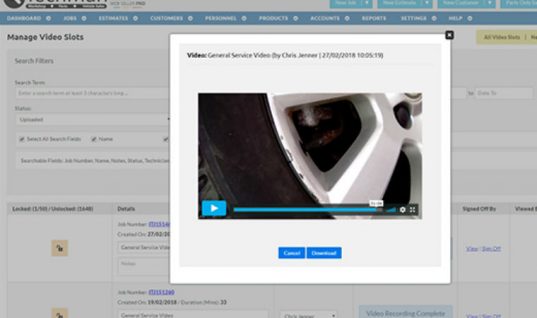 Customer confidence
Technicians can now attach a video – or multiple videos – to any job to record a health check, walk round or illustrate work required.
Screenshots can be captured afterwards from the live video as well.
The interface is clean and simple so it can be used from either a tablet or a mobile phone.
Having the capability fully integrated within TechMan saves times over running a separate system too.
Other benefits for garages who've implemented video systems include increased conversion of sales opportunities leading to both improved customer confidence alongside increased revenue.
TechMan now also aim to add a 'customer portal' where motorists will be able to view work history, automatically authorise estimates and manage their own personal data and marketing opt in settings.
Visitors to Mechanex Manchester in May can find out more or otherwise, to arrange a demonstration, contact TechMan on 01604 666720.
First published on GarageWire – 17 April 2018: https://garagewire.co.uk/news/company/techman/techman-adds-video-capability-techview-bringing-opportunities-garages/
Published: April 17, 2018